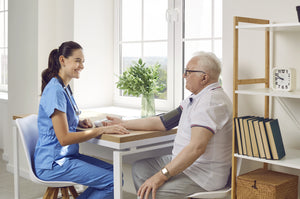 The following Understanding and Supporting Behavioral Health in Older Adults Training is designed to educate healthcare providers (HCP) on the specific mental and behavioral health problems older adults face.
What you will learn:
Key indicators of common mental health disorders in older adults
Effective communication strategies
Various intervention techniques
The importance of caregivers
Once completed, you will receive a certificate of completion. Course length: 1 hour and 30 minutes.
The information contained in these trainings was derived from publications of NIH and SAMHSA (Government Sourced Material). None of the planners, authors or instructors for this activity have any relevant financial relationships to disclose. The Government Sourced Material used by AMC is available for no charge on their associated websites. The use of the Government Sourced Material by AMC does not imply endorsement or recommendation by NIH, SAMHSA or by the United States Government, of AMC, its enterprise, its facility, its services or its products. © 2024 American Medical Compliance, no copyright claimed in Government Sourced Material. If you are not completely satisfied with this course within 30 days you will receive a full refund.