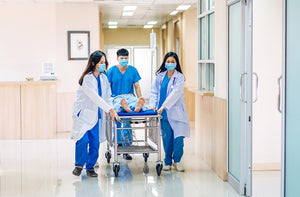 This license is for a single user. If you need additional licenses for teams of 100 or more, please contact us for special pricing.
The following Training for Emergency Responders: Reducing Risks Associated with Long Work Hours course is designed to educate emergency responders from different professions to minimize risks from fatigue due to the need to work long day shifts during the emergency response and recovery operations. 
What you will learn:
Importance of sleep

Dangers of sleepiness and fatigue
Impaired performance due to long working hours

What are personal considerations?

Roles of medicines in sleepiness

How much sleep do you need?

Sleep system
Circadian rhythms
Color of lights

Providing services for workers with long shifts

Identifying responder fatigue
Establishing policies

Relaxation techniques

Creating a good sleep environment
Using light to manage alertness
Napping as a fatigue countermeasure
Diet
Protecting yourself from heat
Gaining understanding from people in personal lives

Action steps before deployment
Once completed, you will receive a certificate of completion to verify you have finished the training. Course length: 30 minutes.
The information contained in these trainings was derived from publications of OSHA, OCR, FDA, CDC, NIAID, ATSDR, HHS or WHO (Government Sourced Material). None of the planners, authors or instructors for this activity have any relevant financial relationships to disclose. The Government Sourced Material used by AMC is available for no charge on their associated websites. The use of the Government Sourced Material by AMC does not imply endorsement or recommendation by OSHA, OCR, FDA, CDC, NIAID, ATSDR, HHS or WHO or by the United States Government, of AMC, its enterprise, its facility, its services or its products. © 2023 American Medical Compliance, no copyright claimed in Government Sourced Material. If you are not completely satisfied with this course within 30 days you will receive a full refund.