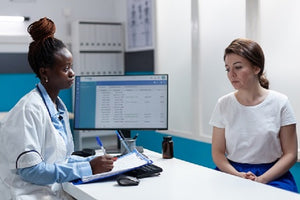 This license is for a single user. If you need additional licenses for teams of 100 or more, please contact us for special pricing.
The following HIV and AIDS Training for Healthcare Workers course is is designed to educate healthcare workers with an understanding of HIV/AIDS in the healthcare environment. Healthcare workers are at an increased risk of viral exposure in the workplace. You will learn about the essentials of HIV/AIDs for healthcare employees in detail. Once completed, you will receive a certificate of completion. Course length: 45 minutes.
The information contained in these trainings was derived from publications from OSHA, EEOC, CMS, DOL, OCR, FDA, CDC, NIAID, ATSDR, HHS, NLM, or WHO (Government Sourced Material). The Government Sourced Material used by AMC is available for no charge on their associated websites. The use of the Government Sourced Material by AMC does not imply endorsement or recommendation by OSHA, EEOC, CMS, DOL, OCR, FDA, CDC, NIAID, ATSDR, HHS, NLM, or WHO or by the United States Government, of AMC, its enterprise, its facility, its services or its products. © 2023 American Medical Compliance, no copyright claimed in Government Sourced Material.