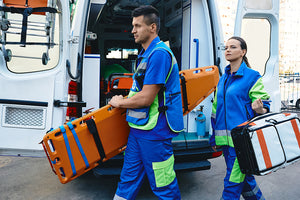 The following Infection Control Training for Emergency Medical Services (EMS) course is designed to educate HCP how to protect yourself/patients and mitigate community transmission of diseases in the United States. 
What you will learn:
Infection control procedures

Following an infection control plan

Adhering to standard-based precautions

Patient placement

Taking precautions when performing aerosol-generating procedures (ASGs)

Collecting diagnostic respiratory specimens

Managing visitor access

Implementing engineering controls

Caring for patients with COVID-19

How can you protect yourself?

Environmental cleaning

Preparing for the arrival of patients with infectious diseases

Patients not requiring hospitalization

Telemedicine

Evaluating persons under investigation (PUI)

Tips on submitting a report on a PUI

Protecting others by protecting yourself

Infection prevention and control plans

Personal protective equipment (PPE)

Hospital preparedness

Background on outpatient facilities

Patient placement considerations

Personal protective equipment (PPE)

COVID-19
Once completed, you will receive a certificate of completion to verify you have finished the training. Course length: 1 hour.
The information contained in these trainings was derived from publications of OSHA, OCR, FDA, CDC, NIAID, ATSDR, HHS or WHO (Government Sourced Material). None of the planners, authors or instructors for this activity have any relevant financial relationships to disclose. The following interactive course will satisfy the annual requirement mandated on a Federal and State level. The Government Sourced Material used by AMC is available for no charge on their associated websites. The use of the Government Sourced Material by AMC does not imply endorsement or recommendation by OSHA, OCR, FDA, CDC, NIAID, ATSDR, HHS or WHO or by the United States Government, of AMC, its enterprise, its facility, its services or its products. © 2023 American Medical Compliance, no copyright claimed in Government Sourced Material. If you are not completely satisfied with this course within 30 days you will receive a full refund.