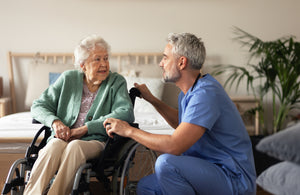 The following dementia courses for healthcare providers will help HCP fulfill the  regulation that requires healthcare providers in New Hampshire to complete 10 hours of dementia training. 
The package includes: 
Dementia Diagnosis Training for Healthcare Providers 
Mild Cognitive Impairment and Dementia Training for Healthcare Providers 
Dementia Patient and Caregiver Needs Training for Healthcare Providers 
Discussing Dementia Diagnosis Training 
Management of Common Medical Conditions Observed During Middle and Late Stages of Dementia 
Understanding Middle-Stage Dementia Training 
Recognizing the Role of Diversity in Dementia Care Training 
Understanding Early Stage Dementia Training 
Once completed, you will receive a certificate of completion to verify you have finished the training. 
None of the planners, authors or instructors for this activity have any relevant financial relationships to disclose. If you are not completely satisfied with this course within 30 days you will receive a full refund.